| | | | |
| --- | --- | --- | --- |
| Queen Elizabeth Honors Cornellian Engineer | | | |
Thursday, 29 October 2015
Much-lauded biomedical researcher and entrepreneur Robert Langer '70 has received one of his field's highest honors: the Queen Elizabeth Prize in Engineering. According to the award's website, the MIT professor was recognized for his "revolutionary advances and leadership in engineering at the interface with chemistry and medicine." A pioneer in tissue engineering, Langer has received numerous accolades including the Kyoto Prize and the $3 million Breakthrough Prize in Life Sciences. The queen presented Langer with the prize, which carries an award of one million pounds, in the throne room of Buckingham Palace in late October.
| | | | |
| --- | --- | --- | --- |
| Boyfriend Convicted in 2014 Murder of Cornell Senior | | | |
Thursday, 22 October 2015
After a four-day trial, a Tompkins County jury has convicted a local man of murdering his girlfriend, Shannon Jones '15 (above), who was a twenty-three-year-old senior engineering major when she was strangled in her Cayuga Heights apartment on Thanksgiving Day 2014. Benjamin Cayea, thirty-three, was found guilty of second-degree murder and faces fifteen years to life in prison when he is sentenced in December; his lawyer has indicated he will appeal. Cayea—who allegedly confessed to the crime but later recanted—never denied that he had killed Jones, but disputed the circumstances of her death.
| | | | |
| --- | --- | --- | --- |
| Lab of O Marks Centennial with Book | | | |
Wednesday, 21 October 2015
The Lab of Ornithology has published The Living Bird: 100 Years of Listening to Nature, a coffee-table book featuring 250 images of more than 100 North American species—from spoon-billed sandpipers to great horned owls. The volume, which marks the centennial of the lab, includes essays by such prominent authors as Barbara Kingsolver and Jared Diamond. "I think maybe everyone needs birds, at least a little," Kingsolver writes. "For a quotidian measure of wonder and a glimpse of how life goes on completing itself, whether we're watching or not."
| | | | |
| --- | --- | --- | --- |
| Cornellians Win 'Genius Grants' | | | |
Tuesday, 29 September 2015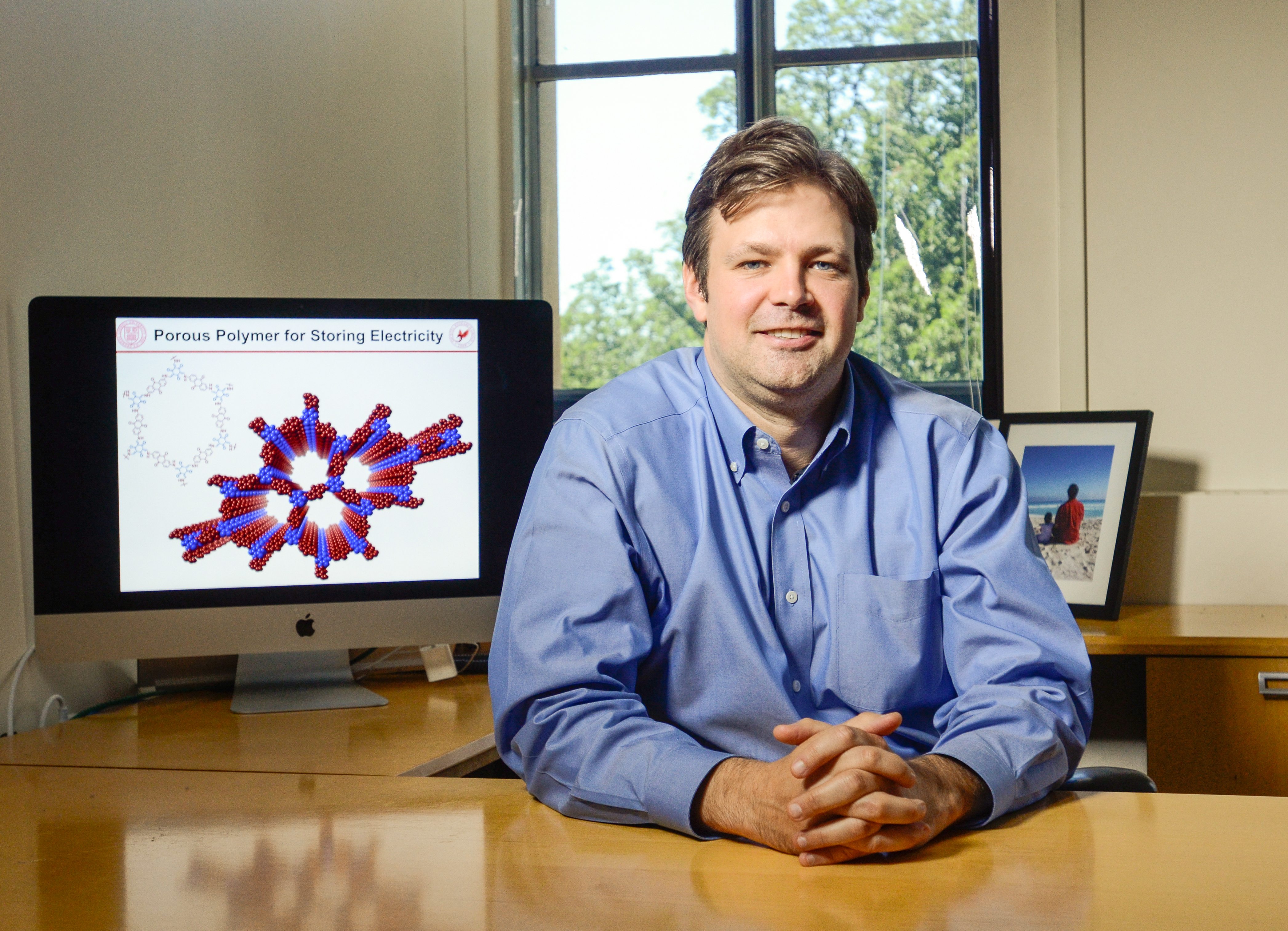 Two Cornellians are among this year's crop of MacArthur Foundation Fellows. The twenty-four winners of the annual awards, commonly known as "genius grants," will each receive $625,000 in unrestricted funding over five years. The winners include professor William Dichtel (above), a chemist who, according to the foundation, is "developing new ways to make nanostructured materials with potential uses in energy storage, solar power, biosensors, and other technologies." The other Cornellian fellow is Christopher Ré '02, MEng '03, a Stanford University computer scientist "making big data more widely accessible and useful in ground-breaking data applications."
Other members of the MacArthur Class of 2015 include prominent journalist Ta-Nehisi Coates and playwright-composer Lin-Manuel Miranda of In the Heights and the current Broadway hit Hamilton.
| | | | |
| --- | --- | --- | --- |
| Cornell Inaugurates Thirteenth President | | | |
Friday, 18 September 2015
On a gloriously sunny late summer morning, the University kicked off Homecoming weekend with an historic event: the inauguration of its thirteenth—and first female—president. Hundreds of students, alumni, staff, and berobed faculty witnessed legal scholar Elizabeth Garrett formally accept the symbols of office, as three trustees presented her with the University charter, mace, and seal. In attendance were three other living Cornell presidents (from left, with Garrett in the above photo): Frank H.T. Rhodes, David Skorton, and Jeffrey Lehman '77.
In her inaugural address, Garrett repeatedly cited C. P. Cavafy's poem Ithaka, about Odysseus's journey to his home island after the Trojan War. "I am confident we will lead the world in creating new paths to knowledge, discovery, and the many ways we can move closer to the truth," she said, "and in launching our students on their own voyages." She also stressed her excitement about the Cornell Tech campus—and issued a challenge to Ithaca faculty "to consider how deep collaborations—in teaching or research or creative work, or all three—can be developed to achieve excellence we could not have imagined had we not established this new port of learning."
Following tradition, the academic processional included representatives of dozens of other colleges and universities, marching in order of their founding year. New York Lt. Governor Kathy Hochul was on hand, as one of her predecessors had been for the inauguration of Andrew Dickson White in 1866. English professor Alice Fulton delivered three poems she'd written for the occasion, and Board of Trustees president Robert Harrison '76 offered opening remarks. "It is fitting as we turn the page on our yearlong celebration of the sesquicentennial that we begin the next 150 years with a historic first: For the first time in 150 years, Cornell University has chosen as its president a person from the great state of Oklahoma," he said, to a round of laughter, "and also a woman."
A chapbook containing Garrett's speech, Fulton's poems, and more is available from the Cornell Store.
<< Start
< Prev
1
2
3
4
5
6
7
8
9
10
Next >
End >>
Results 28 - 36 of 254