| | | | |
| --- | --- | --- | --- |
| July/August '15 Issue Now Online | | | |
Thursday, 16 July 2015
Summer is the perfect time to curl up with a good book—and CAM's July/August issue is devoted to reading and writing. From new releases to Cornellian classics, from the nation's oldest university press to a new publishing house founded by an alumni couple, we explore the depth and breadth of the Big Red's literary pursuits.
Plus, we offer stories on an innovative canine rehab program, a grad's restaurant devoted to grilled cheese, a Reunion photo album, a fraternity's quirky meet-up tradition, a round-up of Cornellians in the movies, and more.
You can read it in hard copy (subscription information is available here); on our website; in the digital edition; and via apps for Apple and Android devices.
Please enjoy... and let us know what you think!
| | | | |
| --- | --- | --- | --- |
| Day Hall Welcomes President Garrett | | | |
Wednesday, 01 July 2015
President Elizabeth Garrett marked her first day in office on Wednesday, July 1. Cornell's thirteenth president, she will be formally inaugurated on Friday, September 18. "In the weeks before we welcome new members of our campus communities and greet returning colleagues and students, I am looking forward to meeting more of you and exploring parts of Cornell I have not visited in my travel over the last nine months," Garrett said in an e-mail to the University community. "I will spend time in New York City, where Weill Cornell Medical College has been a pioneer in medical education and biomedical research for more than a century and where Cornell has a growing number of other thriving programs. Among other visits, I will check on the progress at our new Cornell Tech campus on Roosevelt Island." The new president, formerly provost of USC, added that she is "eager to discover the beauty of upstate New York, as well as meet our Ithaca neighbors at the Farmers Market and the new Commons."
| | | | |
| --- | --- | --- | --- |
| CU Issues 'Casting Call' for Garrett Inauguration | | | |
Tuesday, 23 June 2015
The University is seeking "experienced and enthusiastic performers" to enliven the inauguration festivities for President Elizabeth Garrett, set for September 17 and 18 (the Thursday and Friday before Homecoming). Performances are planned for the event's faculty reception, gala dinner, procession/recession, and more. Interested groups can fill out an online application; proposals are due by noon on Friday, July 10.
| | | | |
| --- | --- | --- | --- |
| Bloomberg Donates $100 Million to Tech Campus | | | |
Monday, 15 June 2015
Former New York City mayor Michael Bloomberg's philanthropic foundation will donate $100 million to support the first phase of construction at the Cornell Tech campus on Roosevelt Island. The gift, which was reported in the New York Times ahead of a formal announcement, will endow an academic building dubbed the Bloomberg Center (seen in a rendering above).
As mayor, Bloomberg oversaw the competition through which Cornell was selected to build a graduate campus on land provided by the city. "While New York had already demonstrated itself to be a leader in finance, media, entertainment, tourism, and biomedical science, the one area in which it lacked pre-eminent status was in the field of applied sciences and engineering," President David Skorton said in an interview published on bloomberg.com. "The significance of the mayor's vision and donation is that he has helped bring to life a campus that will produce entrepreneurs to create the jobs and businesses that will fuel the city's future economy."
To mark the groundbreaking of that new campus, Cornell Tech commissioned an artwork that débuts this week at a local gallery. Entitled Tropicália, the piece by Peter Gerakaris '03 is described as an immersive, mixed media, site-specific installation.
Jane Swanson, assistant director of government and community relations, calls it "a magnificent example of the kind of creativity and innovation we plan to bring to our campus on a regular basis." The work is on display at Gallery RIVAA, 527 Main Street, Roosevelt Island.
| | | | |
| --- | --- | --- | --- |
| Sam Gold '00 Wins Directing Tony | | | |
Monday, 08 June 2015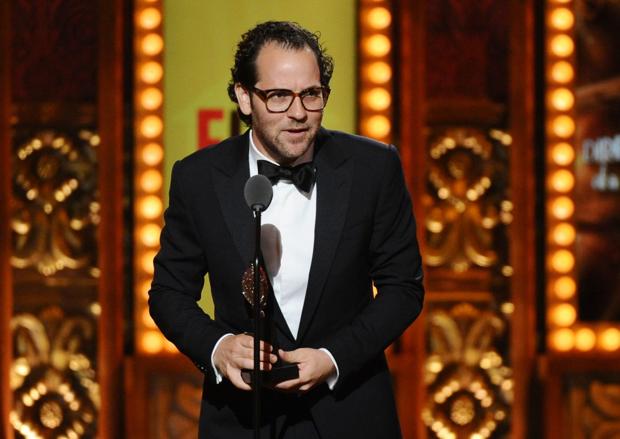 Broadway director Sam Gold '00 took home a Tony Award on Sunday night for his work on the musical Fun Home. The show was nominated for twelve Tonies and took home five, including Best Musical. In the New York Times, Ben Brantley wrote that Gold directed Fun Home "with vivid precision and haunting emotional ambiguity."
Gold—whose previous Broadway credits include Seminar, Picnic, and The Realistic Joneses—was featured in CAM in July/August 2014.
<< Start
< Prev
1
2
3
4
5
6
7
8
9
10
Next >
End >>
Results 46 - 54 of 265