| | | | |
| --- | --- | --- | --- |
| Choi Named Dean of Medical College | | | |
Tuesday, 17 January 2017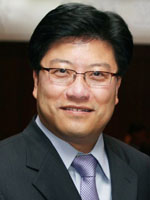 Augustine Choi, who had been serving as interim dean of Weill Cornell Medicine since the departure of Laurie Glimcher in spring 2016, has been named to the position on a permanent basis. An expert in lung disease, Choi came to the Medical college in 2013 as chief of the Department of Medicine. Said incoming President Martha Pollack: "I am deeply impressed by his intellect, his candor, and his obvious passion for advancing Weill Cornell Medicine's mission in patient care, discovery, and education."
| | | | |
| --- | --- | --- | --- |
| UMich Provost Named Cornell's Fourteenth President | | | |
Monday, 14 November 2016
Martha Pollack, provost and executive vice president for academic affairs at the University of Michigan will succeed Elizabeth Garrett as Cornell's 14th president. She will take office on April 17, 2017. A graduate of Dartmouth and the University of Pennslyvania, Pollack, fifty-eight, is an expert in artificial intelligence and will have tenured appointments in the departments of Computer Science and Information Science.
At a press conference in Myron Taylor Hall on November 14, Pollack spoke of the value of innovation and adaptability, her commitment to diversity, and the need for Cornell to "lead the way in demonstrating why universities are so important and what kind of impact they can have on the world."
Pollack fielded questions regarding freedom of speech on campus, rising costs of higher education and student debt, and her role with Cornell Tech as a member of the steering committee of the Jacobs Technion-Cornell Institute.
When asked about her position as Cornell's second female president she joked that when she joined the Computer Science department at Michigan, "there were more professors named Igor than there were female professors," but added that "the job of the president is to serve everyone."
Jan Rock Zubrow '77, chair of the search committee highlighted Pollack's outstanding leadership qualities, managerial skills, and ability to "bring people together" as reasons for her appointment. "She is uniquely qualified to realize our dream of 'One Cornell,' " Zubrow said.
Pollack's husband, engineer Ken Gottschlich, will join her as a member of the Cornell faculty.
| | | | |
| --- | --- | --- | --- |
| Arrest Made in Campus Death of IC Student | | | |
Tuesday, 08 November 2016
Interim President Hunter Rawlings has announced an arrest for the killing of an Ithaca College student, who died of stab wounds in late August after a large fight broke out on Ho Plaza following an event in Willard Straight Hall. The alleged assailant, twenty-three-year-old Nagee Green from the nearby village of Freeville, has been charged with second-degree murder and second-degree assault. Anthony Nazaire, a nineteen-year-old IC sophomore from Brooklyn, died in the early morning hours of Sunday, August 28.
| | | | |
| --- | --- | --- | --- |
| Welcome Center Planned for Noyes Lodge | | | |
Friday, 28 October 2016
Beebe Lake's historic Noyes Lodge is slated to become a campus welcome center. The $6 million project will be named in honor of Trustee Emeritus Martin Tang '70 (above, seen outside Noyes)—who, along with his sisters, donated $3 million toward it. (The other half of the funds came via a challenge grant from Atlantic Philanthropies, the foundation established by Charles Feeney '56.) The new center is slated to open in summer 2018.
| | | | |
| --- | --- | --- | --- |
| Expanded Climbing Wall Opens on Campus | | | |
Wednesday, 19 October 2016
The University has unveiled its newly explanded climbing wall. Thanks to a $850,000 upgrade project two years in the making, the Lindseth Climbing Center in Bartels Hall now boasts 8,000 square feet of space, compared with its former 4,800. The facility originally opened in 1990.
<< Start
< Prev
1
2
3
4
5
6
7
8
9
10
Next >
End >>
Results 1 - 9 of 264